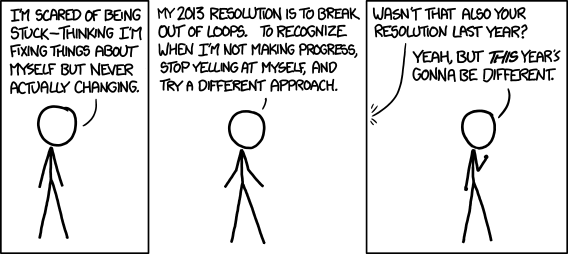 Hello, 2013!
You have certainly started off with a bang. Everyone asking each other about resolutions while others eschew resolutions in favor of goals. I'm actually wondering when the resolutioners will be out of the gym…
For me? Never been a big fan of new year resolutions. The way I see it? You can change any time you want, but you have to be ready and willing to make that change. Some type of catalyst is usually involved to push you to make that change. For me? Those changes came last October, and I expect more to happen this year.
More gym time. Making more time for my family and friends. Letting go of the things that were sapping me of my will to make changes and holding me back.  Weeding out the distractions preventing me from reaching those dreams. Believing that I CAN do it.
Since that time, I'm 4 out of 6 half marathons into a personal challenge. I'm working out 4-6 days a week in preparations for a sprint triathlon. I cook at home as much as possible. I call my parents at least every week. I contact a minimum of one close friend a week just to catch up. I'm working on building my finances for future dreams and passions. I'm cleaning the clutter out of my home and my life, and keeping the important things — the people, animals, and plants.
And 2013? I'm looking forward to it. I'm ready for the continuing adventure, building off of the excitement of the end of 2012.